Masterbuilt MB20070210 Analog Electric Smoker
BEST PICK
This is a great smoker to explore how to smoke meat, fish, poultry, and even vegetables. Electric smokers are easy to use and this one is perfect for mastering the art of smoking.
Here we have reviewed the best smokers to help you pick your first smoker
Masterbuilt Analog Electric Smoker
The Masterbuilt Analog Electric Smoker is a great smoker for cooks exploring how to smoke meat, fish, poultry, and even vegetables. Electric smokers are easy to use and this one is perfect for mastering the art of smoking.
Powered by electricity, this smoker's 1 500 watt heating element means you'll have consistent, even heat.
The 3 chrome-coated cooking racks allow you to cook a number of food items at the same time. The cooking space easily holds either 3 chickens, 3 pork ribs, or 2 turkeys.
The wood chip tray is easily accessible for loading your favorite wood chip blend.
The variable analog dial temperature control feature allows you to adjust the temperature. The built-in temperature gauge is easy to read.
Being an electric smoker, temperature control is manageable and stable.
Build Quality and Convenience
This solid appliance is made from cast iron. It comes with legs for raising off the ground. The size of this 30-inch smoker keeps it compact without it taking up too much space.
A neat and simple construction with an easy-to-clean grease tray and wood chip pan. This appliance offers all the convenience of electric smokers. It's hassle-free with no need to use charcoal or propane. Simply plug into the wall and you're sorted.
This has to be one of the top smoker for beginners. Without having to fuss about the operating of this appliance, you can focus on getting your meat perfectly smoked.
Weber Smokey Mountain Cooker
Thanksgiving (and every other weekend) will never be the same again without this charcoal smoker in your home. Enjoy great authentic smokehouse meals using this Smokey Mountain cooker.
The cooking space of the Weber 18-inch Smokey Mountain Cooker is spacey enough (481 square inches) to take both a turkey and a ham at the same time, And it comes with 2 nickel-plated cooking grates.
A water pan is included so you can rest assured your meat is tender and moist every time.

A side door gives you easy access to the water pan and charcoal box. This prevents taking off the lid during cooking (which leads to more heat loss and you want to avoid that!).
A built-in thermometer is set into the lid. The four aluminum dampers allow you to manage the heat inside the cooking chamber. This is done by regulating the airflow by shutting down or opening up the dampers.
Build Quality and Convenience
This cooker is made of porcelain-enameled steel, It's size (41″H x 19″W x 21″ D) means it'll fit neatly into any space, big or small. Its legs elevate it off the ground and give height.
The heat-resistant handles protect from scorching your hands when using the lid.
Cleaning and maintenance are simple although you'll need to disassemble the bottom to clean out the ash.
For low and slow cooking, you can't go wrong with this one for your first time.
Char-Broil Bullet Charcoal Smoker
The 388 square inch cooking space is a nice size for smoking up a meal for a family or small group of friends. It has 2 porcelain coated cooking racks.
The removable ash pan is designed to hold a large quantity of ash which minimizes constant cleaning while the smoking process is on the go.
A high-quality fire access door allows you to control your smoke flow throughout the process.
The temperature gauge built into the lid allows for easy reading and temperature control.
The airflow control system has been designed to maintain the internal temperature setting, simplifying the temperature settings and control.
Build Quality and Convenience
This sturdy 16″ bullet smoker is compact. Its porcelain-coated steel body adds durability to the appliance and keeps it rust-free.
All the components of this product are porcelain-coated which makes it easy to clean. It also prevents the meat from sticking on the racks. The handles on the chamber lid make for easy lifting and replacing.
The simple design and concept of this product are great for beginners exploring smoking with charcoal. As a first smoker, you can't go wrong with the features simplifying the process.
Pit Boss Digital Electric Wood Smoker
BEST ELECTRIC WOOD SMOKER
This vertical smoker is powered by electricity. The 1 500 heating element gives a steady and even heat throughout the smoking process.
The cooking space is generous measuring in at 1008 square inches. With its 5 porcelain-coated racks, you'll have more than enough space to load up with food.
External access to the porcelain-coated wood tray makes for easy loading and easy removal of ash. As it burns wood chips very quickly it's advices to stick to pellets.
It comes with a porcelain-coated water pan which is perfect for maintaining moisture within the cooking space.
The push-button digital control panel with LED temperature readings is a great feature. Temperature can range from 100 F to 400 F. With double insulation included, loss of heat is not a problem.
Build Quality and Convenience
It is constructed of porcelain. It stands at 47″ with the control panel on the bottom stand. Its vertical shape means it can fit into a smaller space comfortably.
The double-walled construction with blanket insulation is important for maintaining temperature. It also ensures the external parts of the smoker don't get piping hot. This is a safety feature to consider in all smokers.
The large viewing window on the door makes it easier to see what is happening inside without having to open the door! The lock-in castor wheels keep it stable while offering mobility when it needs to be moved.
If you're into digital technology you'll have fun with this smoker. This is one of the types of smokers that could get any beginner hooked on smoking food for life!
Dyno-Glo Vertical Offset Charcoal Smoker
For the first smoker, the Dyno-Glo Vertical Smoker would be a good starter. The design and features will give you some of the best-smoked meals you've tasted in a long time. And you'll be the chef here! Plus, it's big enough to entertain large groups or parties.
The offset box keeps the heat away from the food while the vertical design enhances the smoke flavor. Slow cooking is achieved with minimum effort through this design.
The 784 square inches of the cooking area gives you ample space for smoking larger quantities of food. What's more, it includes 6 adjustable cooking grates to accommodate various sizes of food items.
The porcelain-enameled steel charcoal chamber keeps the briquettes tightly packed for a better burn.
The ash pan is designed to hold large quantities of ash for hours leaving you to focus on the cooking.
Wood or charcoal can be used to fire up this smoker (so bring on those wood chips).
A stainless steel temperature gauge is built into the appliance and you can read the temperature at a glance.
It includes a "smoke zone" indicator which tells you when the ideal temperature has been reached for infusing smoke flavor.
The adjustable flue on the steel smoke stack lets you control the airflow and maximizes smoking precision.
Build Quality and Convenience
The dimensions of this smoker (47″H x 34″W x 20″ D) makes it larger than the other products reviewed here. But it's still a neat design and will not look out of place on your patio.
It's constructed with steel and is solid.
The ashtray slides out for quick ash removal and cleaning.
While going for this option may be more challenging for first-time smokers, if the instructions are followed you'll have no problem. It's certainly one of the smokers' grills to put on your list when researching your first smoker.
What is the Best Smoker for a Beginner?
A beginner smoker should be easy to use and have simple operation features. The smoking process can get complicated and you don't want to give up because of high-tech details. As a first purchase, you want to explore what makes your smoked food great.
This includes understanding the importance of the right temperature for different meats. Not only do you want the great taste but you want safe consumption! So, a smoker with simple temperature settings will make life a whole lot easier for your first smoking experience. Electric smokers are great for managing temperatures.
Decide if you're going with wood chips, pellets, or charcoal. It's fun to explore the different wood chip blends and they enhance the flavor of your food. If this is the route you want to take check the smoker has an adequate wood chip tray. Pellet smokers are specifically designed for wood pellets.
You don't want to be fussing around with emptying ashtrays and risking wasting heat every time you open the door. External or large ashtrays will prevent these problems from happening.
A smoker that requires a minimal focus on the operation and maximum focus on smoking the food to perfection is what a beginner needs to get started, that is why I recommend to start with an electric smoker rather than a charcoal or pellet one.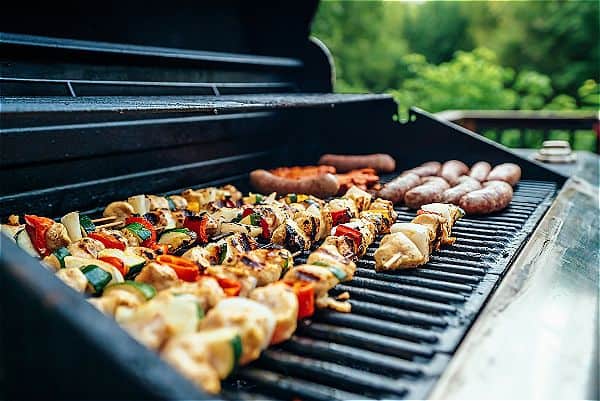 What to Look for in a Smoker
You should look for the following standard features when looking for the best type of smoker for beginners.
Best Smoker Brands for Beginners
The Masterbuilt brand is synonymous with high-quality smokers. As their name states – using this brand will turn you into a master of smoking food! The brand offers a range of smokers to choose from.
The Weber Smokey Mountain Cooker Series comes in 3 sizes. Weber is known for its high-quality products and well-designed features. The Weber brand strives to give its customers the best cooking experience and their website offers many useful tips and tricks.
Both beginner and expert smokers will like Char-Broil which has been in the market of grillers since 1948. They're always looking for more innovative ideas for improving the outdoor cooking experience.
The Pit Boss range of pellet smokers gives you a wide choice of pellet smokers to choose from. They are serious about grilling and the brand boasts "hotter, heavier & bigger" grills!
Manufacturers of both grilling and smoking appliances, the Dyna-Glo smokers can be powered by charcoal, propane, or electricity. This brand offers great information and advice so if you're looking for a brand to get you started, this manufacturer is a great option.
While I've mentioned these brands in this review, other brands such as Royal Gourmet and Camp Chef can offer great smokers for beginners.
As you can see, the world of smokers is vast. You can choose from electric to charcoal to propane to pellets to fire up your first smoker. Pick the one with features that will simplify the process while you're getting the hang of mastering the skills of smokers.
Welcome to the world of smokers!